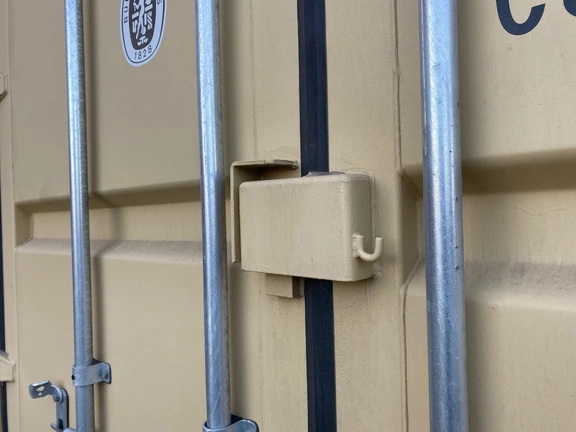 Slimline Lockbox
ABC Container Hire & Sales is proud to feature container lockboxes as one of the most prevalent modifications on our shipping containers. These are included as a standard feature with all of our brand-new shipping containers. These are boxes that go over the lock on your container, making it much more difficult for intruders to break the lock. The sleek design of the lockbox is an outstanding, cost-effective enhancement for any pre-owned shipping container, offering an added layer of security.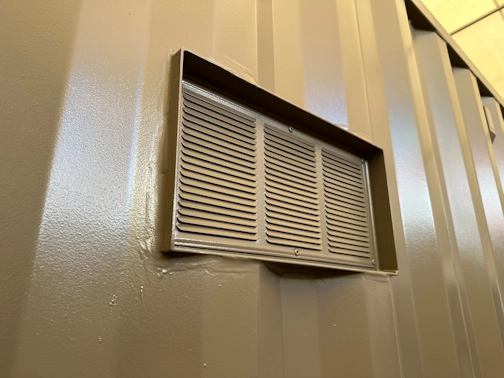 Whirlybird & Ventilation
Whirly Birds and supplementary ventilation are essential features for your shipping containers. These modifications work to minimise temperature temperature changes. Enhanced ventilation ensures the safety of your goods and protects them from issues that can occur over time as a result of temperature fluctuations. Reach out to the ABC Container Hire & Sales team today to learn more!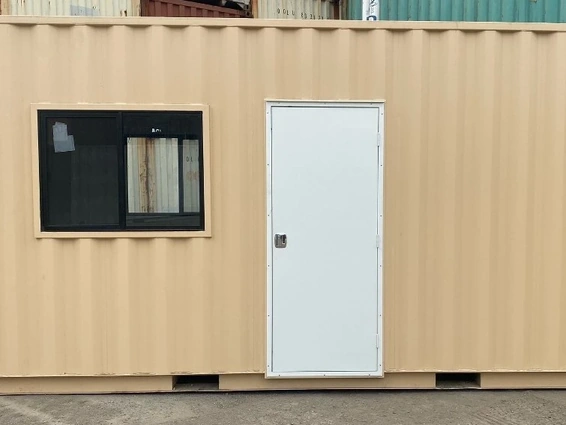 Personal Access Door
Those who have experienced the task of opening and closing container doors understand that it can be somewhat challenging. Personal Access Doors, on the other hand, provide a convenient solution for accessing your shipping container with ease. Comparable in size to a standard exterior door, these installations offer a fully sealed, pest-resistant, and watertight solution. Concerned about security? Rest assured, our Personal Access Doors have comparable security features to your regular external door. Contact ABC Container Hire & Sales for more information.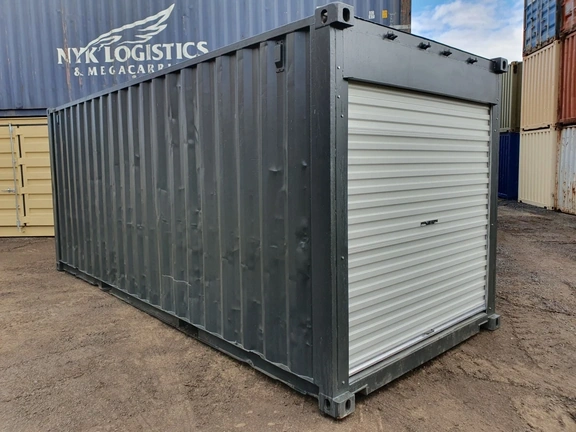 Roller Doors
The 2.1m Roller Door is an excellent feature to consider if you're seeking a wide-opening and easily accessible door. Even with the convenience of their wide opening, these roller doors can still be securely locked for safe storage. They are particularly beneficial for schools and sports clubs to store their equipment. Moreover, they serve as an ideal solution for clients who wish to use the containers as an extra garage space, providing a secure and sheltered spot for storing valuable cars, keeping them both concealed and safe from environmental conditions. Reach out to ABC Container Hire & Sales for more information.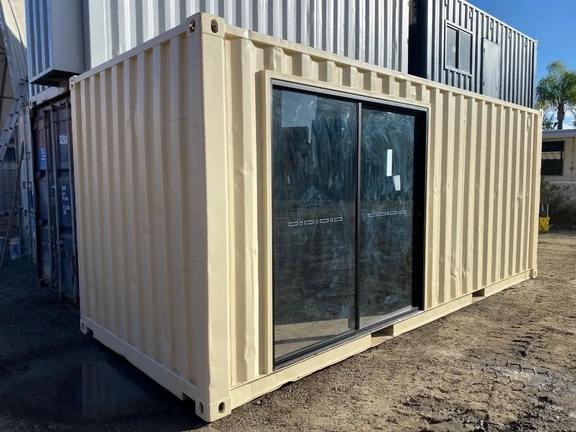 Sliding Glass Doors
Consider adding Sliding Glass Doors as part of your shipping container modifications. These substantial glass doors not only allow an influx of natural light to illuminate the container, eliminating the need for windows or artificial light, but also capture the subtle allure of the early sunrise, enhancing the space with a warm and cozy ambiance. These doors are meticulously crafted by setting up the glass sliding mechanism directly onto the container structure. While we are more than capable of creating custom-sized sliding doors tailored to your specific requirements, the standard size is often the most economical choice.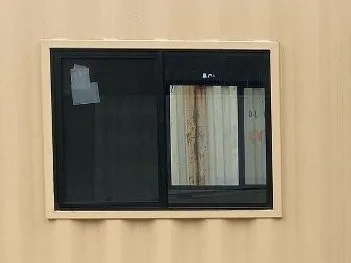 Glass Sliding Window
Glass sliding windows are exactly what you expect, and an excellent addition to any container. We cut out and frame the designated space, prime and paint the window casing with a rust-resistant layer, and then install the window. Two types are available: a sliding window that can be opened and closed, and a standard glass pane that remains fixed.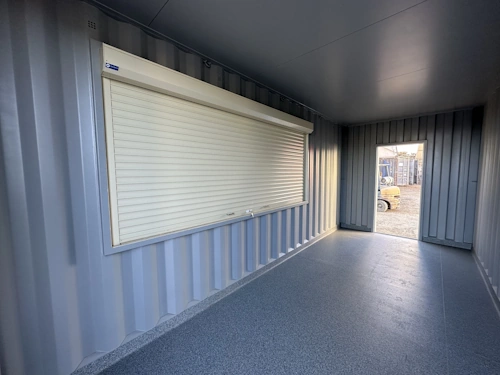 Servery Window
Ever dreamt of opening your own cafe or market? A shipping container fitted with a servery window could be all you need. Fitted with a half length, high strength rolling door, a servery window provides security and functionality. They're also perfect for ticket booths, especially when using a 10ft shipping container.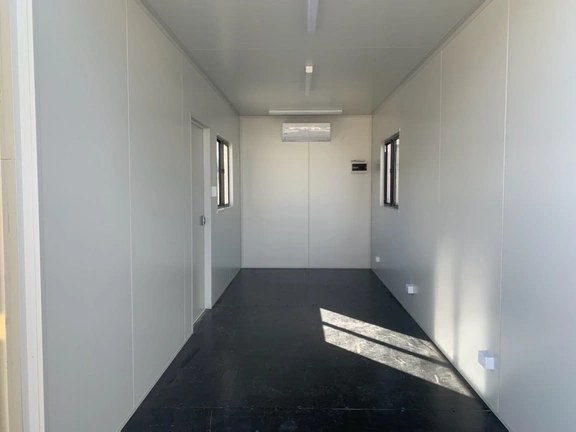 EPS Panel Insulation
Shipping container homes and cafes are on the rise. But while the steel containers are durable, they can become quite hot on a typical Aussie day. EPS Panel insulation helps maintain a steady temperature, and when paired with an air conditioning unit, creates the perfect start for your custom shipping container living space.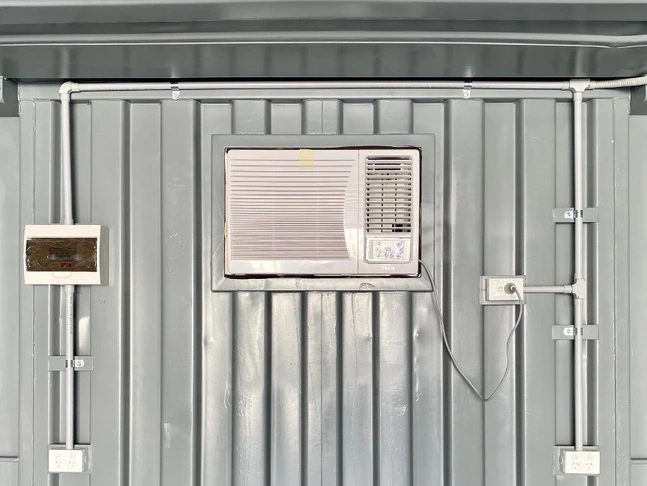 Electrical Fit-Outs
Our qualified electricians handle all electrical fit-outs and air conditioning installations, ensuring the job is done right. Basic fit-outs for a 20ft container start with 2x double power points, 2x batten lights, and a weatherproof 15 amp inlet connected to a sub-board for future electrical additions. A 40ft container comes with 3x batten lights and 3x double power points.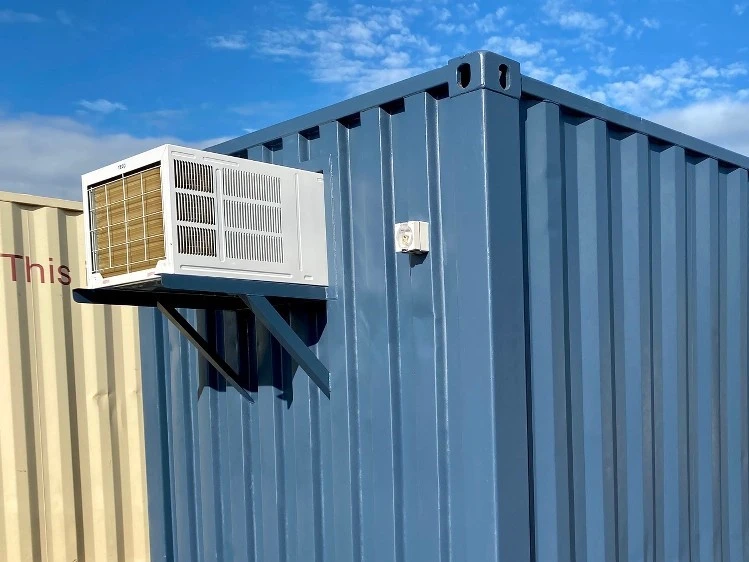 Air Conditioning Units
Thanks to our in-house electricians, we offer multiple air conditioning units at competitive prices. Both window and split system units are available, making them ideal for site office containers, shipping container homes, or cafe/shop containers. Contact our team for more information on our range of units.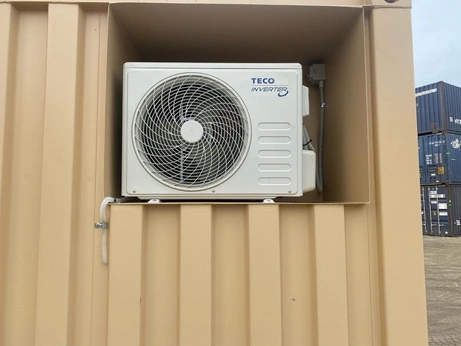 Split System Units
Our selection of split system units are excellent for combating the hot Aussie sun and maintaining a cosy temperature during cooler winter nights. We recommend installing insulation before choosing an air conditioning unit for economic reasons. Contact our team today for more information on our various units.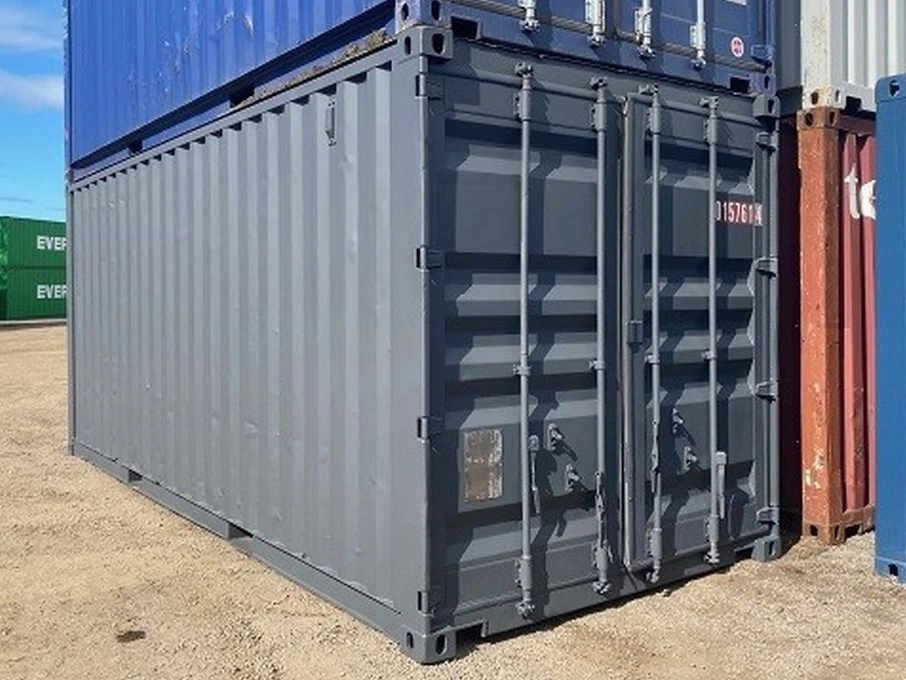 Container Refurbishment
Our refurbishment process turns a second-hand shipping container into a near-new unit. We repair significant dents and lift the roof to prevent water accumulation and future damage. Broken seals are replaced, walls and doors are buffed, and rust is treated before priming, painting, and sealing the container inside and out. The exterior can be painted in a range of colours—speak to our sales team today to find out more.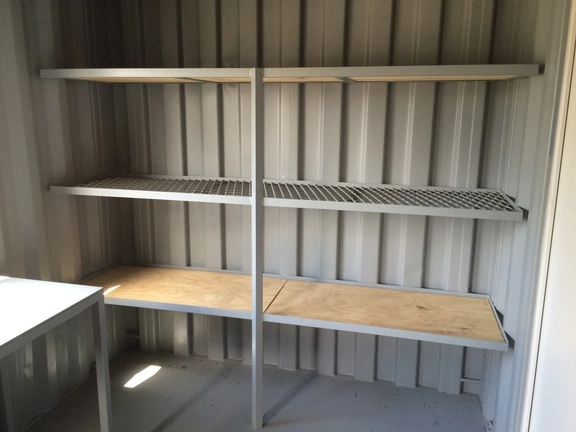 Shelving Solutions
For clients using their container as a shed, workshop, or storage unit, shelving can significantly increase organization and storage space. We offer a range of options, from heavy-duty bolted shelving for bulky items to inventory shelving installed throughout the container for maximized storage.